Sinners + Saints Society Membership.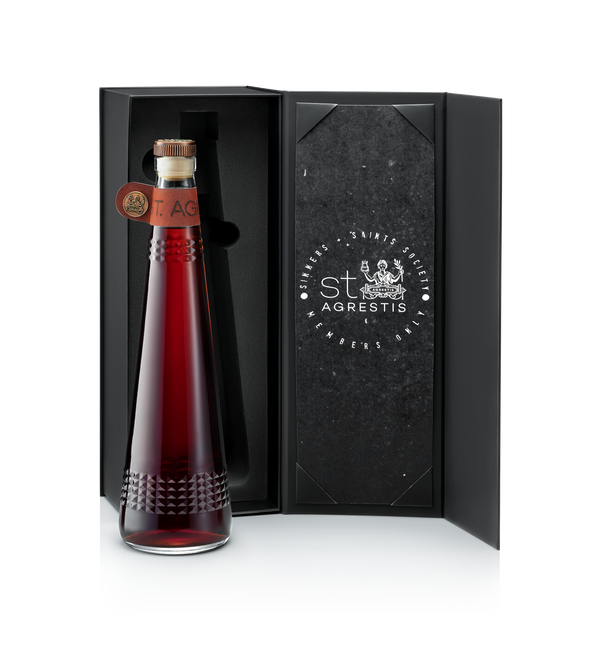 Batch 001: St. Agrestis Cherry Ratafia was originally conceptualized during the R&D process of our Amaro Soaked Cherries. We sought out to create a spirit using rare cherries that impart their sour notes on our St. Agrestis Amaro. This was achieved by doing a whole fruit extraction with the stone over several months, creating beautiful marzipan notes. The final product a balance between bitter, sour, spice and sweetness.
Batch 002: St. Agrestis Amaro Per Sempre was inspired by Producer Louis Catizone and wife Beth's first evening meeting, as well as the celebratory Mexican tradition of families distilling mezcal for weddings. After drinking Sotol together that night, they sought out a used cask to hold a special amaro to create and share for their wedding. After extracting flavors inspired in part by some of their favorite culinary experiences around the world, including Mexico and other places they've traveled to, these unique extractions were blended and then aged together in the sotol cask for one year. The final result is a flavor profile that is inimitable, with savory Mexican herbs, citrus-forward notes, nuanced florals, and delicate spiciness.
Batch 003: St. Agrestis Vino Amaro, The Three Gifts draws on historical, biblical times.  The Three Wise Men, also known as the Magi, were believed to have given Jesus three gifts upon birth. The gifts, myrrh, frankincense and gold, all hypothesized to have different meanings. In journals, we romanticized the concept of a three gifts amaro. We began extracting and blending frankincense and myrrh and were pleasantly surprised, though they craved an additional element. We searched for a slightly oxidative wine to serve as the base and the results were extremely unique and shockingly delicious. We then found high quality edible 24K gold leaf to serve as the third gift. 
Batch 004: St. Agrestis Neroli Gin combines the beautiful aromatics of Sicilian neroli with the sweet, herbal components of Italian juniper and refreshing Sicilian blood orange. Neroli, the white blossom found on the bitter orange tree, found its lasting legacy when the Princess Anne Maria de la Tremoille of Nerola began using its oils as a fragrance for perfume in the early sixteenth century outside of Roma. Since then the rare flower, which permeates citrusy, floral aromatic notes, has become one of the most sought after components to high-end perfumers around the world. These botanicals, together in perfect harmony, create a gin that serves as the ultimate component in Negronis, Gin & Tonics and Martinis.   
Batch 005: St. Agrestis Bitter Agrotivo came to fruition this past winter as we found ourselves especially excited by domestic lemon while simultaneously missing some of our favorite summer flavors. From gelato to salads to seafood to garnishes, we began searching for ways to get Italy's iconic femminello lemons in time for a summer release. A farm in Calabria answered our call, and we hit the limone jackpot. After carefully macerating the peel of these beautifully imperfect and oversized lemons, we then combined them with bitter roots and herbs, specifically with lemon Negronis front of mind. The result is a bittersweet, tart aperitivo that is unique yet familiar, elegant and complex. And at 24% ABV, Agrotivo tastes like summer in southern Italy. Summer tastes like limone.
Batch 001: 

St. Agrestis Cherry Ratafia | Size: 750ml | ABV: 24%

Batch 002:

St. Agrestis Amaro Per Sempre | Size: 750ml | ABV: 25%

Batch 003: St. Agrestis Vino Amaro, The Three Gifts | Size: 750ml | ABV: 20%
Batch 004: St. Agrestis Neroli Gin | Size: 750ml | ABV: 46%
Batch 005: St. Agrestis Bitter Agrotivo | Size: 750ml | ABV: 24% (Current Release)
Free Nationwide Shipping (must be purchased separately)
About the Sinners + Saints Society.
Starting in spring 2022 with the first of four launches yearly, we will be releasing a very limited number of special release spirits that will be exclusively available online to Society members.
Spirit releases are comprised of concepts that never made it into the world, either due to their difficult production, expensive and hard to source botanicals, or niche nature. Each will be produced on an incredibly small scale, with no more than 1,000 bottles per release.
Details on upcoming releases will be made available just before each launch, with membership fees being charged just prior to shipping each quarter.