St. Agrestis Negroni Fountain.
Size: 1.75L | ABV: 24%
Local NYC Delivery | Nationwide Shipping ($40.00 alcohol order minimum)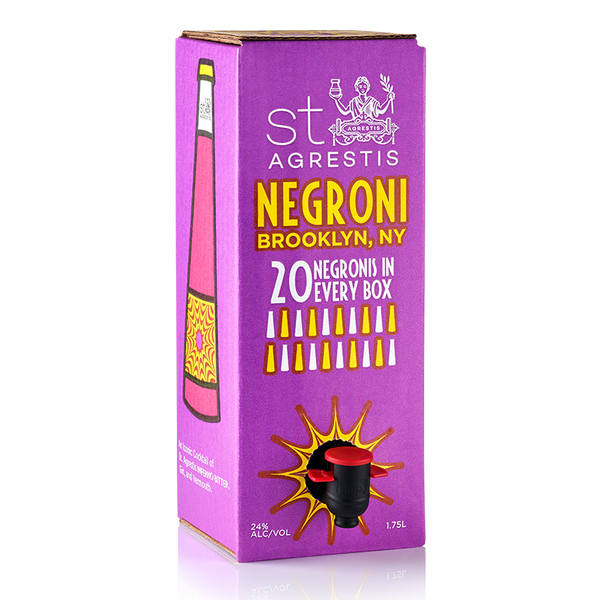 Your Fridge Just Got a Boozy Upgrade.
At St. Agrestis, we are Negroni obsessed. That's why in 2020 we released our adored St. Agrestis Negroni in it's newest format, the 1.75L Negroni Fountain. Each fountain is packed with 20 3oz. bar quality Negroni cocktails that stay fresh in your fridge for 4 months after opening.
Our St. Agrestis Negroni Fountain is a combination of St. Agrestis Inferno Bitter, house-made Torino style vermouth and Greenhook Ginsmiths American Dry Gin. Together, our Negroni makes for a perfectly balanced, bitter, boozy and refreshing cocktail that fits right next to your water dispenser in your fridge.
Best served over ice with an orange twist, the St. Agrestis Negroni drinks with the same bitterness drinkers of the cocktail expect, but with more layered herbaceousness and freshness. Or for a bubbly, lower ABV option, top with Prosecco for a Negroni Sbagliato.
"I celebrate and curse the day St. Agrestis put cocktails in a box."
Bon Appétit
Delightful
A gin-forward negroni you can keep on tap in the fridge? It's exactly as good as it sounds.
And if worried about how much there is: Three months after I first opened the box (I don't drink that much at home), it still tastes great.
My fridge is stocked with just a small box!
As fans of the glass-bottled SA Negronis and canned N/A ones too, we tried this ...and soon ordered two more to have on hand for a quick half-cocktail or for multiples if friends are over. Fantastic! Taste is the same, and our first box lasted about 3 weeks with no flavor deterioration.
You had me at Negroni Fountain
Fits in the fridge easily.
Pulling drinks from the bottom seems to stir the bag a bit, keeping from sediment building.
And the bite of a negroni comes through strong.
Fantastic product!
Highly recommend the Negroni fountain. Delicious, convenient, & affordable. What more could you ask for?
Negroni fountain in my fridge
I am so glad I discovered the pre-made Negroni fountain! I too had previously been enjoying Tip Top cans for my nightcap, but the flavor + ease of the St Agrestis Negroni (+ fact that I can keep it in my fridge, not having to open/use individual cans or bottles) is so much more convenient. I've stocked up a bit for summer months ahead, to keep the Negronis flowing during the long BBQ days ahead, and can't wait to pack a box for my upcoming vacation.