St. Agrestis Non-Alcoholic Phony Negroni 12-pack.
Size: 12x200ml
Free Nationwide Shipping (excluding when purchased with alcohol products) | Flat Rate Canadian Shipping

The Negroni For When You're Not Negroni-ing.
Non-alcoholic with nuanced juniper, citrus, and floral notes, the St. Agrestis Phony Negroni® drinks with the same bitterness drinkers of the classic cocktail expect, sans alcohol. We've also added carbonation to help mimic the bite that alcohol typically provides. Enjoy chilled straight from the bottle or over ice with an orange twist. Or for a bubbly, low ABV option, top with Prosecco for a Negroni Sbagliato.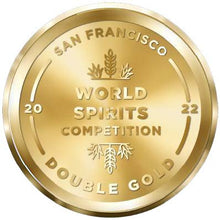 2022 Double Gold Winner
San Francisco World Spirits Competition
2022 Best of Class Winner
San Francisco World Spirits Competition
2023 Double Gold Winner
San Francisco World Spirits Competition
"This drink is so well balanced and delicious that it bowled us over"
Wirecutter
Obsessed
I'm so obsessed with these! My local n/a shop can't keep them in stock so I've been ordering by the case. They're so good and the perfect bitter alcohol alternative
An Amazing "Phony"
Picked this up in a local store to try last summer, and have been hooked since. Now I order direct from the manufacturer and have it shipped right to my home. LOVE the Phony Negroni. It's the perfect NA drink, very satisfying, and refreshing. A constant in my cooler.
Can't Believe How Gooooood This Is!
This is hands down the best NA option in the market. Tasted like the real thing, can hardly tell there isn't any alcohol in it. Delicate, complex, and tantalizing this is everything you want and more out of a Negroni!
The NA beverage I've been searching for
It's kind of incredible how delicious these are! Negronis are my go-to cocktail but I have been booze-free for several months. Phony Negronis were the answer to my cravings for that bitter, refined, punchy yet smooth taste I love so much. I went through my case of these way too quickly and will continue to have these on hand for all occasions. So good!
Simply the best non-alcoholic spirit I've had